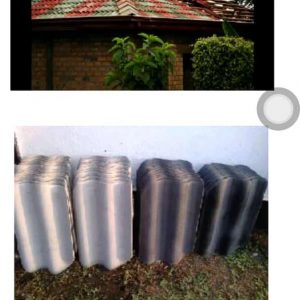 Having a roof over your head is a big deal in Africa, where we have millions of people living in shanties and some live in open spaces in their neighborhood. There have been series of researches all over the World aimed  at finding materials and technology for the roofing of houses. This write up will concentrate on the FIBRE CONCRETE ROOFING TILES & SEMI SHEETS TECHNOLOGY, this is the technology that was passed on to Bolyn constructions company limited over two decades ago. Our first contact was through a publication jointly authored and titled Technical memorandum No.16, FIBRE AND MICRO CONCRETE ROOFING TILES [Production process and Tile laying]  by the International Labor Office, Geneva and the United Nation Industrial Development Organization.  Worthy of mention also is the Swiss Center for Development Co-operation in Technology and Management [SKAT] who gave us  a copy of a title called SKAT/ILO-FCR/MCR TOOL KIT – ELEMENT 22- PRODUCTION GUIDE-FIBRE AND MICRO CONCRETE TILES.
IMPORTANCE OF THE ROOF MATERIALS TO ANY DWELLING.
It is to be noted that out of all the component that make up for a good house, the roofing materials is a very important one among them because it does the followings-
The roofing materials used in a house avail the inhabitants of the house insulation from heat. The roofing materials give shaded shelter to all under it. The roofing materials protect all persons and goods and properties from dust and sand. The roofing materials also protect us from the rain and storm.
WHAT MATERIALS ARE ROOFING TILES AND ROOFING SEMI-SHEETS MADE OFF?
The Fibre concrete roofing tiles and Bolyn super-semi roofing sheets are made from the combination of Sharp sand, Soft sand, Coconut fiber or any other Natural or Synthetic fiber mixed with Cement and Water in a mixing ratio available to the Trainees during a 3weeks mandatory training. Those desiring other color of roof different from the grayish standard color can add colorant as they  preferred. The making of these Tiles and Sheets is possible in a small workshop the size of a 2 nos standard rooms. The newly made Tiles and Sheets can be stored close to the workshop or in a specially provided Curing tank, they are to be sprinkled with water daily for a minimum of 14days before they can be ready for final roofing work.
DESCRIPTION OF PRODUCTS PRODUCED BY OUR BOLYN ROOFING TILES/SHEETS MAKING MACHINE.
Bolyn constructions company limited Machine is designed to make all the varieties of Tiles and Semi-roofing  sheets needed for all the section of your roof e.g. Single hooks tiles, Double hook tiles, Block head tiles, Ridges cap tiles and sheets. The tools and instrument that will help you achieve these products are supplied with the machine at the time of purchase.
LIST OF ACCESSORIES SUPPLIED WITH THE MACHINE .
We supply our Machine with some items such as Interface sheets for Tiles or Sheets making, the Interface sheets are re usable and washable. We supply the Machine with 5nos Ridges cap wooden molds, block  head wooden mold form-work, Trowels[small and big], Scissors, Spanner and Cutting pliers, Weighing scale, samples of Fiber, Color powder, Galvanized metal hook etc.
TRAINING IN PRODUCTION OF ROOFING TILES AND SEMI- SHEETS.
Bolyn constructions company limited provide training both in our Ikorodu workshop and elsewhere as desired by the customers. We will be recommending that the Customers choose to be trained in the location where they plan to set up their workshop, so that they will be able to use all the materials found in their site and their machine for their training.
It is high time that we in Africa begin to use our God given talents and materials to better the lots of our countrymen and women. Our dependence on the importation of virtually every of our daily needs will keep us permanently under developed. It is sad that after 60years of independence from our colonial master, we are still dependent on less advance country like China for our survival.